Mute rotation function
Small size and wide field of view
Adjustable focal length
Timer/USB cable
With a shooting star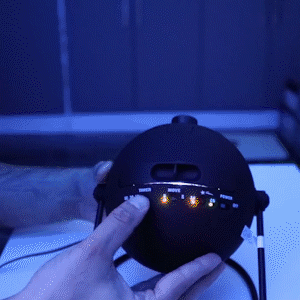 Imagine looking at the sky from another angle and traveling to many different places in the universe without leaving home.
Multi-layer glass lens
Advanced multi-layer glass lenses can achieve excellent projection effects, allowing you to sleep under the night sky in the comfort of your own home.
Mute rotation function
The satin-black surface with lunar craters realizes quiet disc rotation during movement, super silent and undisturbed.
Exquisite and powerful
Customize the 5W warm white LED to enhance the field of vision, and use powerful LED lights to project several twinkling stars on the ceiling. There are already 60,000 high-definition stars.
Adjustable focal length
The projection angle and focus are adjustable, and can be projected to any position from 59 to 90 inches, and the maximum projection diameter is 106 inches.
Timer
The device has a timer function for 15, 30 and 60 minutes, and a convenient timer will automatically turn it off.
USB cable
The USB cable can realize wall or wallless mobile power operation, projecting amazingly accurate sky to
Ceiling or ceiling.
With meteor
The night spectacles displayed by the unit include a shooting star, allowing you to enjoy the sight of mysterious travelers in the sky. Just like the equipment on the spacecraft worn by the spacecraft.
Product parameter
Accessories: with two software (CD)
Dimensions: 159 x 167 x 151mm (6 x 7 x 6")
Power consumption: 6 watts
Power supply: AC adapter (included)
Material: ABS, PC, iron, glass