Anniversary Sale $16.7 for the first 100 customers!
We are proud to announce our Super Scale RC F-14! Our team worked tirelessly to develop an RC model which brings the excitement and scale performance of this hallmark aircraft to your local flying field and to appropriately honor the RC F-14's rightful place in aviation history. We chose to depict "Bullet 101", the specially marked F-14 from the VF-2 squadron "Bounty Hunters", which was painted in the mid-1990s to celebrate the 25th anniversary of the F-14's service in the United States Navy.


The signature feature of the real F-14 is its sweeping wing, and we've worked to design this model around this function as well. Our lightweight, aluminum "Wing Box" design supports a rigid wing in both forward and swept configurations. The wings pivot on flat bearings to reduce resistance and wear. Electric servoless actuators extend and sweep the wings using steel control rods and brass ball links. The result of this design is a durable, maintenance-free wing sweep feature which provides pilots with a worthy F-14 flying experience.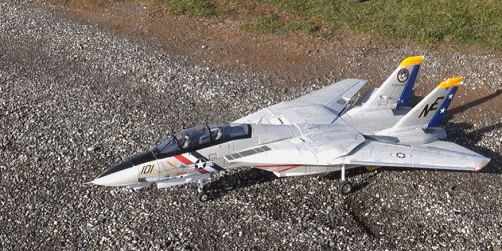 Scale fidelity, surface details, and builder-friendliness were also specific areas of focus. All the electronics –servos, EDFs, ESCs, UBEC, retracts, and lights—are completely installed at the factory. The builder simply needs to screw on the wings and epoxy on the forward nose section and the assorted surface details like the wing fences, antennas, pitot tube, etc. To further simplify the wiring and setup, this F14 incorporates an onboard mixing circuit board which controls all the servos, taileron/aileron mixing, wing sweeping, and the lighting package.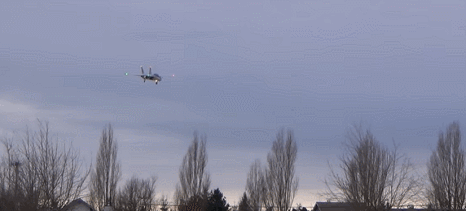 While the complexity of this F-14 make it the largest, most impressive, and heaviest EDF jet available at RC to date, the aircraft uses two 80mm 12 blade EDFs and two 6s 4000mAh batteries which can propel it through the sky at 100mph. The F-14 is also extremely capable and stable at slow flight. The model can cruise at 60% throttle, can turn at 40% throttle even with the wings swept rearward, and can land at less than 40mph with full flaps.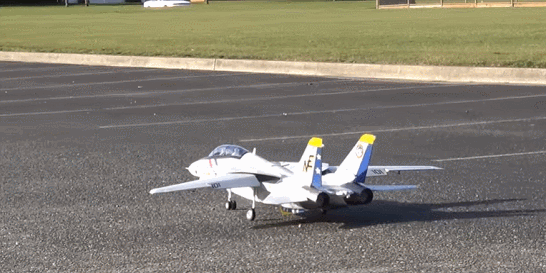 FEATURES:
2x 12 Blade factory balanced 80mm EDFs with metal housing and 3530-1680kV brushless outrunner motors produces realistic jet turbine sound
Rigid aluminum wing box assembly for a swept wing configuration
Pre-installed servoless actuators to sweep the wing during flight
Super scale details include hand painted pilots, antennas, pitot tubes, etc
Proudly displaying the authentic "Bullet 101" livery of the VF-2 squandron "Bounty Hunters"
2x 80 Amp Hobbywing ESCs with single 8 amp UBEC
Electronic retractable landing gear with all metal shock-absorbing struts
Steerable, shock absorbing nose gear for enhanced ground maneuverability
Servo operated nose gear door (pre-installed sequencer)
Carbon spars and EPO foam construction provide the perfect balance between strength and flexibility
9x LED lights plus landing light
Nylon hinges on all control surfaces
Gapless flap hinges
Outrunner motors, servos, ESCs and EDFs come pre-installed for your convenience (PNP version only)
WHY CHOOSE US?
Quality assurance, ingredient safety, non-inferior products.
Your order will be processed within 24 hours.
Providing all-day customer service.

SHIPPING
After your order is processed you should receive your tracking information right away!
Click ADD TO CART To Order Yours Now!
OUR GUARANTEE
Limited Time, winter promotion!
50 sets in stock only
Returns>> Fast refund, 100% Money Back Guarantee.